Product recalled by : Hotel BROCÉLIANDE LOUDÉAC
Brand : BROCÉLIANDE at AUCHAN
Product : Palette toast
Model : Top cooked pork shoulder, in tray of 4 slices, under protective atmosphere, marketed since the 10 December 2014.
No. lots :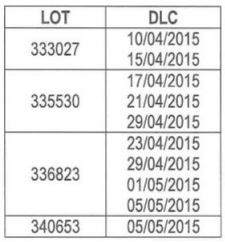 Weight : 200 g
Reason for recall : Highlighting of the GLUTEN allergen that is not labelled in the list of ingredients.
Terms of the callback : It is recommended to destroy its product or be reimbursed by reporting it at the point of sale.
Consumer service :
Phone. : 02 96 25 38 80 / 06 60 36 63 96