Product recalled by : SCARMARK
Brand : MENU FRESH / MARKS MILESTONE
Product : Coleslaw
Model : 300 g, Labeled shredded carrots, marketed in fresh radius from the 12/08/2016.
Lot no. : 622311 and 622511
Use by date : 02/09/2016 and 04/09/2016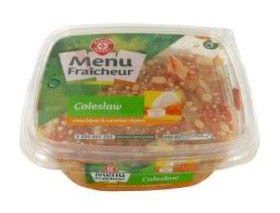 Sign of diffusion : E.Leclerc
Reason for recall : The egg allergen in the product is not mentioned.
Terms of the callback : If egg allergy, it is recommended to bring its product in stores.
Consumer service :
The manufacturer : 0 800 86 52 86