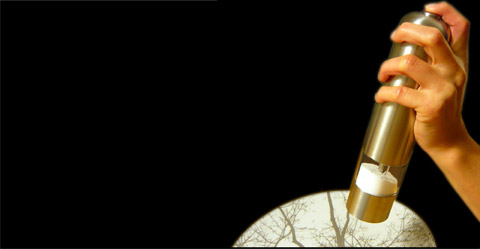 And after the NutriNet-health study, which is based on 140 000 Since dietary surveys 18 month, the french eat too dirty. Daily salt intake is estimated at 8.4 g on average per person which is still well above the 5 g per day recommended by l'WHO. Pierre Meneton, researcher at l'INSERM, says that "moins de 2g suffisent à combler nos besoins physiologiques". Men consume more salt (9,2g/d) that women (7,6g/d). It is in this context that 67% of men and 36% women have a salt intake above the maximum level of 8 g/d that the France was set for 2008. You should still know that salt of the french consumption is down (10g/d in 2000 against 8,4% today) What is already rather a good start.
Three-quarters of the salt consumed are present in the food we eat. In the crosshairs of the food the dirtiest we have :
Bread and crackers : 24,1%
The deli : 12,5%
Cheese : 8,1%
Vegetables : 6,8%
The fast food and snacks : 5,9%
It is even often not necessary to add salt in his plate or in his dishes. Serge Hercberg INSERM says that it "faut encore faire de gros efforts parce que les enjeux de santé publique sont vraiment majeurs". Consuming too much salt has risks such as high blood pressure, kidney disease, some cancers, stroke or the osteoroporose.
Note that the SALT association (Sodium food Limitions the rate) has been created this October to alert authorities and the public on this subject. The call to the recruitment of new "nutrinautes" continues with the objective of achieving 500 000 participants which could allow advance public research on nutrition and health.
If you wish to register, go to the site : www.Etude-nutrinet-Sante.fr