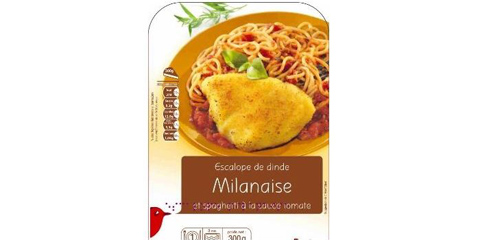 Product recalled by : Company DELPEYRAT catering
Brand : AUCHAN and CARREFOUR
Product : Escalope of Turkey Milanese and Spaghetti with Tomato Sauce
EAN : 3596710349142
Use by date : 03/12/2013
Weight : 300 g
Reason for recall : The product is likely to contain a 'cordon bleu Turkey"instead of a"Milanese cutlet.. The "cordon bleu Turkey" contains milk and soy allergens that are not noted in the list of ingredients.
Risk : Reaction for people with an allergy to milk and/or soy.
Terms of the callback : En cas d'allergie aux composants incriminés, return the product to the home of the Auchan store where it will be refunded.
Consumer service :
Phone : 0810 000 127