Ce ne sont pas moins de

3 000 tons of meat, either 8 000 cattle,

contaminés à la Tuberculose qui finissent chaque année dans nos assiettes

.

C'est le Canard Enchaîné qui révèle cette information avec, à l'apui, les documents de la DGAL (Direction Générale de l'Alimentation).
Cette situation est alarmante mais légale

!

Indeed, cette pratique est connue et autorisée par les autorités sanitaires car, selon elles, le risque de contamination à l'homme n'est pas possible lorsque l'animal est débarrassé de ses organes infectés (foie et reins). Concrètement quand un bovin est diagnostiqué malade, il est envoyé à l'abattoir.

À cela s'ajoute également le bœuf britannique. La Grande-Bretagne a "pris l'habitude d'écouler en France une partie de [ses] carcasses contaminées" rapporte l'hebdomadaire. Ce ne sont pas moins de 28 000 bêtes anglaises contaminées à la tuberculose qui finissent dans les assiettes de plusieurs pays européens dont la France (Sunday Times – 2013).
Une histoire de prix

?

Les éleveurs, qui se font indemniser par l'État lorsque leurs bovins sont contaminés, vendent leurs carcasses à des prix bien inférieurs aux grandes surfaces (between 3,5 and 1,5 € le kg) who, elles, écoulent la viande au même tarif que celle d'un bœuf sain.

Le groupe Bigard figure parmi les sociétés accusées de se faire de l'argent sur la viande contaminée. Rappelons que Bigard c'est également Charal et Socopa.
Ce géant de la viande qui tient près de 50% du marché, bénéficie indirectement d'un quart des aides publiques.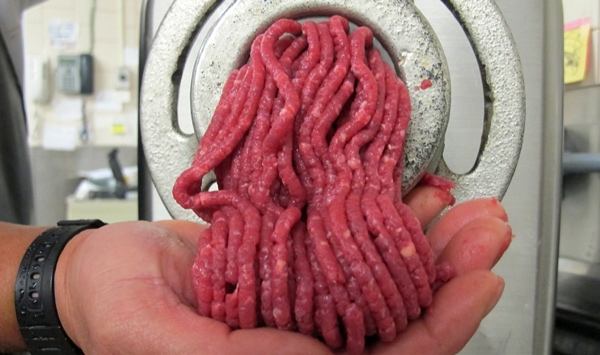 Est-ce réellement sans danger

?

Un responsable de la DGAL aurait affirmé "For more than 30 years, in France, personne n'a attrapé la tuberculose en mangeant du beef". Pourtant les transmissions du bovin à l'homme existent. L'hebdomadaire affirme qu'une cinquantaine de contaminations pour cette raison ont lieu chaque année. Cela est le cas chez, among others, les éleveurs, vétérinaires et chez ceux qui boivent du lait cru, non pasteurisé, produit par une vache malade.
Meat :
Scandales à répétition
La filière n'est plus à un scandale près. Cette nouvelle affaire fait suite aux nombreux rappels que nous partageons sur Dangers Alimentaires concernant de la viande contaminée par l'E. coli ou par des Salmonella to the viande remballée or avariée, ou encore au scandale de la viande de cheval dans des raviolis…