Product recalled by :
Saviel France
Product : Minced meat – Sting
Brand : Jean Rozé
Packaging : Tray of 400 g
Lot no. : A82760026
Health stamp : FR 35.360.005 THIS
Use by date (Date limit of consumption) : 11/10/2018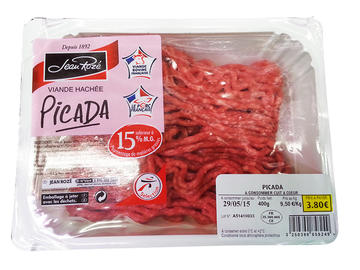 Sign of diffusion : Intermarché
Reason for recall : Discovery of the presence of salmonella.
Terms of the callback : Il est recommandé aux personnes qui détiendraient le produit (après congélation éventuelle) de le détruire ou de le rapporter en magasin pour un remboursement.
Les personnes qui auraient consommé le produit et qui présenteraient les symptômes de cette toxi-infection (lien sur le mot "salmonella" ci-dessus pour plus d'informations) are encouraged to consult their doctor indicating this consumption.