Product recalled by : Saviel France
Product : Minced meat – Sting
Brand : Jean Roze
Packaging : Tray of 400 g
Lot no. : A82760026
Health stamp : FR 35.360.005 THIS
Use by date (Date limit of consumption) : 11/10/2018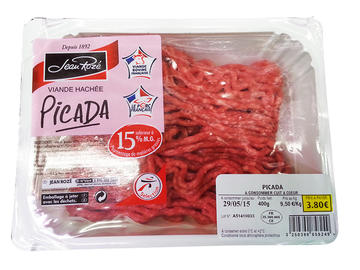 Sign of diffusion : Intermarché
Reason for recall : Discovery of the presence of salmonella.
Terms of the callback : It is recommended to people who own the product (after possible freezing) destroy it or bring it back to the store for a refund.
People who have consumed the product and who present symptoms of this toxic infection (link on the word "salmonella" above for more information) are encouraged to consult their doctor indicating this consumption.