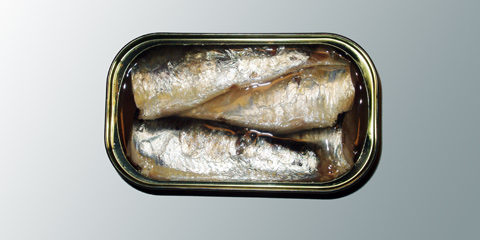 The Casino Group is recalling of "Sardines canned. from 120 marketed under the brand name grams « Every day»..
Are concerned following sardine boxes :
BJ batch number. L 019E – barcode: 3700311820348 (the unit) / 3700311820331 (lot of three) – DLU: 19/01/ 2017
BJ batch number. L 020E – barcode 3700311820362 (the unit) / 3700311820355 (lot of three) – DLU: 20/01/2015
Here is an extract from a report on the histamine from l'AFSSA from 2006 :
"Histamine poisoning"., or food pseudo-allergie syndrome, comes from the conversion of histidine into histamine by decarboxylation. Consumption of foods containing high amounts of histamine may lead to toxic effects in the body.
The main symptoms are related to the vasodilating effect of histamine. Dilation of capillaries causes phenomena of hemoconcentration. The most frequently encountered symptoms are : facio-cervical redness, skin rash, facial edema, hot flashes, burning sensation in throat, taste of pepper in the mouth, itching, tingling of the skin. These skin symptoms are more specific histamine poisoning and can guide the diagnosis. They are generally followed by type headache disorders, heart palpitations, dizziness. Secondary symptoms, gastrointestinal, may appear : nausea, upset stomach, vomiting, diarrhea.
In general, the incubation period is short, It varies from a few minutes to a few hours. The symptoms disappear spontaneously within a few hours (3H in general). Exceptionally, they can last for several days in the most serious cases. »
It is advisable not to consume these sardines and bring them back to the store for a refund.
A number was made available to consumers for further information : 0800 13 30 16