Product recalled by : BERGERIE-FROMAGERIE des ABERS (In the Finistère Department)
Brand : BERGERIE-FROMAGERIE des ABERS
Products : The sheep raw milk cheeses, Fresh or ripened / Sheep yogurt
Models : Fresh shit, crottin asphalt, dung ash, crottin refined, Puck, White cheese, yoghurt, Saint Jaoua, volume of des abers, Bronnou.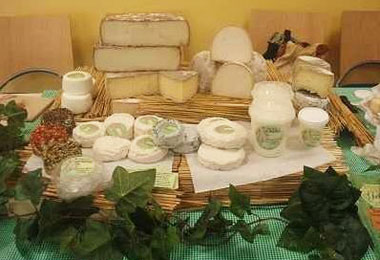 These products were sold whole sometimes labelled or the cut without label only in the Department of Finistère, According to the manufacturer.
Reason for recall : Identification of the bacterium Listeria monocytogenes
Terms of the callback : Some of these products have been marketed before the extent of withdrawal, It is therefore requested to persons who may have purchased these products to the RADIUS traditional inquire with the store to see if they are concerned and to those who hold these products (purchased at the traditional RADIUS, at the self service RADIUS or via Internet), not to consume but to destroy, or be reimbursed.
Additional information : These products have been sold only in the Department of Finistère :
By the producer at the stand level "FROMAGERIE des Abers" markets Department of : LANDÉDA (Tuesday), TREGLONOU (Tuesday), LANNILIS (Wednesday), PLOUGUERNEAU (Thursday), BRIGNOGAN (Friday), SAINT RENAN (Saturday), Saint Louis BREST and KERLOUAN (Sunday).
By the producer directly to the farm «Bergerie-Fromagerie des Abers» located at PLOUVIEN.
Part of products was also been commercialized by the following shops : Mall Leclerc to LANDERNEAU and PLOUDALMÉZEAU (ray intersects), "The delights of the farm" in the FOREST-LANDERNEAU, "On the field" Plouarzel, "A taste of the farm" in LANDERNEAU, 'The counter of the Johnnies' in ROSCOFF, Kerbalanec in PENCRAN GAEC, Robert LUCAS in LOCMARIA PLOUZANÉ, «Pascal cheese» to PLOUVIEN.
Part marketed via the Internet : SARL on the field – Pen year Lewis – 29820 GUILERS – Website : www.sur-le-champ.fr