Attention to tuna that you find on the shelves !
Several Spanish companies are suspected of turning artificially by ordinary bluefin tuna.
France 3 Languedoc-Roussillon, that revealed this information, claims that these companies inject, in fish, a cocktail of banned dyes composed of nitrate, nitrite and even Betadine ! The goal is to get the classic tuna for bluefin tuna (taken and tasty) at a price up to 30% lower.
There are many wholesalers who are rebelling against these practices. A wholesaler of the Hérault exclaims "these dangerous chemicals are imported into France at prices inconsistent with the truth of the market and can cause health risks.. According Europe 1, the health risks associated with injected products are not the only because the fish would also retain temperatures 'lower than the required standards..
Surveys are currently conducted by the Fraud prevention and a sample is being analyzed in Marseille at the moment.
Small recall on bluefin tuna
According to Greenpeace, 'TACs are well above scientific recommendations' and more, the actual catches exceeding the authorized quotas. In 2007, France for example, has said 10 000 tons of catches so that its quota was 5000 tons. "En". 20 years, with the advent of industrial fishing Seine, the number of adult bluefin tuna, capable of reproducing decreased by 80% According to the scientists..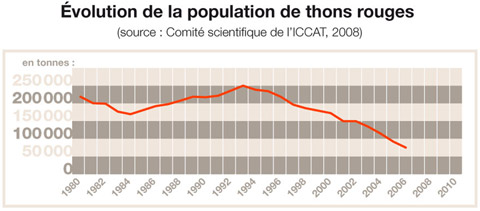 Overfishing threatens the endangered species and will affect the use of small-scale fishermen. In the early years 2000 in the Mediterranean, 1/3 vessels fishing for bluefin tuna are industrial boats (tuna-seiners more 40 m) who fished alone 90% bluefin tuna. This excessive activity is monospecific unlike artisanal fishermen who fish a little bit of everything.