In 2010, It sold 1 million filter jugs. Real society phenomenon, There are many families in France who have opted for this solution, which allows to filter the tap water. About 20% homes are equipped at present time. The German mark, Brita, is the undisputed leader with 90% sector market share.
The success of these carafes is due to several factors :
1) Marketing
According to the Union that defends the bottling industry, Brita segment 10% of its turnover to marketing, What is huge. The mark does not hide that it attaches great importance to advertising to become better consumers know and better showcase its products.
2) Of "assets" put forward

The filter jug is "more practical" Depending on the brand because it is more necessary to carry water bottles, It is more "economic" because the price per litre is greatly reduced and finally, greener car waste is less.
You should however know qualify these assets. Indeed, water from the tap is still preferred because is available immediately (a few minutes of waiting are necessary for water is filtered by a carafe). The tap water is even more economical as a carafe costs an average of 20 € to 50 € and cartridges, to change monthly, on average 7 €. The tap water is also of course more ecological because it is devoid of any "packaging" disposable (CF. cartridges that you throw every month).
The main selling point is their ability to filter water so as to make "best". And it is on this point that the rub.
Member of Parliament for the Alpes-Maritimes, Mrs Marland-Militello asked the Minister of health and sports for a survey filter carafes be carried out. We read in the response of Roselyne Bachelot that "the use of filter jugs made today no recommendations by the Ministry of health, water from the public network should already conform to the regulatory requirements of quality". We read also, not without some surprise, that of "incompletely of undesirable or toxic substances in the water consumed [outcome of filtering carafes] are possible" during intensive use or when the cartridges are not changed in time.
His side, Nathalie Davoisne, the water C.I (Water Information Center) says "prefer filtered water from the tap water, It is above all a matter of taste. Filtering does not improve the quality of the tap water, This water is subject to multiple controls and is perfectly drinkable. But if you choose to buy a Brita jug must think about changing the filters, otherwise There may be a health risk".
What is really ?
Consumers ' association Only choose did a study on 7 new filter carafes in the laboratory and also studied those used every day in 30 families. The editor-in-Chief of the association, Jean-Paul Jay, has brought the findings early may 2010 France-Info.
Laboratory results :

The removal of chlorine taste is real. On the other hand you should know that you will have the same result, and this completely free of, leaving a jug of water for an hour in the refrigerator.
6 carafes on 7 have one "some efficiency" to reduce lead levels (less than 10 micrograms per litre), When they are new. Jean-Paul Geai we must relativize these results because the lead pipes are becoming increasingly rare. In 2013 a standard provides that lead levels below 10 µg/L of water.
The decanters are totally inefficient to remove nitrate.
"The effectiveness of filtering carafes is very average" to eliminate the pesticides (Here the glyphosate has been sought because it is one of the most used pesticides).
Carafes boast all reduce the limestone. M. Jay says that "the reduction of the limestone is real but modest". However he added that what the carafes called limestone is actually calcium, indispensable to the proper functioning of the human body. Studies estimate that the water we drink is 20% intakes of calcium per day. So it's totally ridiculous to remove it from the water.
The cartridges that also use Silver for filtration salts in replicating in water. According to that to choose even if "the doses are low" Why should one find after filtration while initially this metal is not present in the tap water ?
Outcomes for individuals :

The association alerts us that "There, It is the catastrophe" and says that "analysis of water filtered by these decanters in 30 families gives worse results than the tap water before filtration". Lead, nitrates, limestone, pesticides, micro-organisms, the salting-out of money, are all found in larger proportions. "In the end the results are disastrous for filtered water" concluded that to choose.
There are several reason for this. It is necessary to handle the carafe with a lot of precaution (hand hygiene, etc.) otherwise the microbes can greatly multiply (especially in the ambient air). It must also be very strict with the replacement of cartridges which can, After a certain time, become tedious and costly or simply be forgotten.
Main sources :
Further reading :
Denis Lefevre and Vazken Andréassian : Water at Risk ? : A resource to preserve daily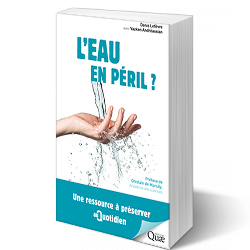 Today, each uses French 148 liters of water for their daily needs. If our country appears rather well endowed with water, some regions have excess or shortage, or diffuse pollution. Will we run out of water ? Can we have confidence in tap water ?
Similar articles :