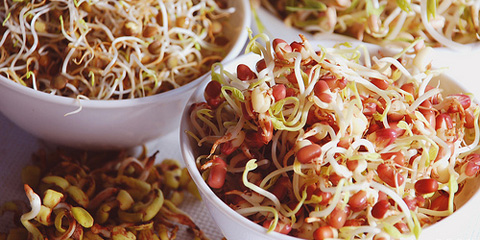 It is now official, These are neither cucumbers, or tomatoes and or salads that are the vectors of the extremely violent strain of e. coli bacteria. After a thousand samples, sprouted seeds (lenses, soy...) contaminated proved to be at the origin of the epidemic and it's only been, now, no doubt.
The federal Institute for risk assessment (BfR) has confirmed this information after the counter-analyses, This Saturday 11 June. The warning issued by the German authorities against the cucumbers, tomatoes and salads was lifted yesterday.
It is a family, whose the daughter and the wife became ill, who brought the tray contaminated to the authorities.
The farm which produces sprouts is exonerated
The contaminated seed has been produced in the organic farm Gartnerhof in Bienenbuttel in Lower Saxony that is now closed. According to Gert Hahne, the spokesman for consumer protection services, « the farm did not err » and adds " hygiene is respected and all regulations are observed […] We did nothing found of wrongdoing in this operation and nothing that can give rise to lawsuits ».
John Dali, European Commissioner for health is pleased that we finally know, After more than a month of epidemic, the vector of e. coli bacteria. He is also convinced that this crisis " would lead to a strengthening of our warning systems » European.
There is still nothing to fear in France
The latest news, the epidemic raging has already hit 3000 people and caused the death of 33 individuals. Frédéric Lefebvre, Secretary of State for trade, ensures that no potentially contaminated seed lot has been delivered in France. The Directorate-General for competition, Consumption and the Repression of fraud (DGCCRF) However, should, According to the secretariat of State, « strengthening monitoring of the microbiological quality of marketed fresh sprouts "we reported ComputerWeekly.com.
German farmers are demanding more aid
The European Union has promised to help to the tune of 210 EUR European farmers, What is not enough according to Gert Sonnleitner, President of the German farmers Federation (DBV), who says that the « prejudice to overall EU rises between 500 and 600 EUR million » whose 65 million for the Germany, reports Lemonde.fr.
Similar articles :
Main sources :