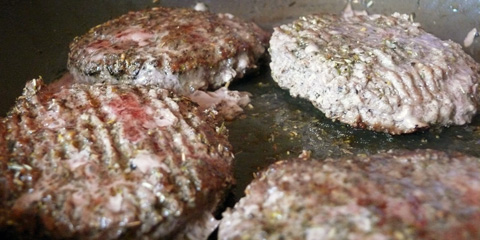 The bacterium's infamous, Escherichia Coli, is again. Presents, a priori, in steak chopped steak Country brand and sold by Lidl, the bacterium has infected seven children in the North of the France.
Prognosis for one of the seven children
Lille, seven children are hospitalized at CHU and suffer from hemolytic uremic syndrome (SHU). And after the doctor Michel Foulard, nephro-Pediatric Chief of CHU de Lille, one of the seven children suffers from a more severe form and cause neurological impairment.
Children's six other regional health agency (ARS) has stated that «» their condition remains serious, but pas concern. Their prognosis is absolutely not engaged ».
Being one to ten day incubation period, It is possible that other cases report.

No link to the ethnic German
And after Xavier Bertrand, french Minister of health, even if she is also strong, There is no link between this strain in chopped steaks and that shows in the beansprouts contaminated from Germany. Daniel Lenoir, regional director of the regional agency of health in Lille, goes in the same direction and stated that it was one «» certainty ».
The provider of the chopped steaks, SEB (Company economic Bragarde), says that meat suspected, delivered in the form of carcases of Belgium or the Netherlands, would seem to come from Germany, According to a package found in one of the victims. Analyses are still ongoing to determine with certainty if infections are chopped steaks.
The spokesman for Lidl, Jérôme Gresland, has explained that «» all these products have been manufactured in France by our supplier. The origin of the meat varies from a date of manufacture to another. It can come from Germany, of Italy, the France or other origins according to the opportunities enjoyed by our suppliers ».
Chopped steaks withdrawn from sale

Lidl proceeded with the withdrawal of suspicious consignments. It's chopped brand steaks Steaks Country conditioned by Pack of 1 kg (10 Steak chopped 100 g) and bearing a deadline for consumption at the 10, 11 and 12 may 2012. The authorities invite customers of the sign do not consume concerned chopped steaks and bring them back to the store for a refund.
The brand has made available a toll-free number for consumers :
0800 802 511.
The France wants to shoot "all the consequences of what is happening.
The Minister of agriculture, Bruno Mayor, has said this afternoon : « We leave nothing aside, nothing to chance, We want to have all the indications on the origin, all insurance policies to avoid new infections and also to draw all the consequences of what happens ». It remains to be seen precisely the contamination occurred, If it is at the place of manufacture, during transport or at the place of distribution.
If all this is confirmed, Brussels plans to launch a European alert, has said one of its spokespersons.
Recommendations
It is advisable to cook its chopped steaks, without prior defrosting, to limit the risk of contamination. « Cooking eliminates the EHEC from 5-10 minutes to 60-61 ° C » explains l'INRA. It is necessary also to wash hands before and after handling the meat and hold its always clean kitchen.
Mode of contamination according to INRA :
Similar articles :
Main sources :