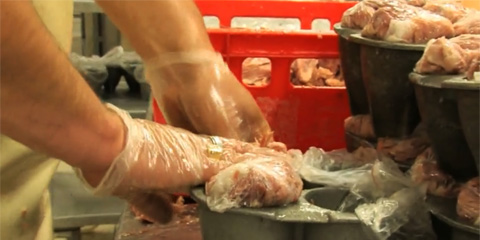 Follow-up to a self test, the company High wood pork proceed to the recall of batches of cooked ham due to the presence of listeria monocytogenes.
The products in question were marketed between the 03 and the 18 November 2011, have a date limit of consumption going up to the 30 November 2011 and have been sold in the following departments :
27, 28, 35, 41, 44, 45, 61 and the Paris Region (butchers-charcuterie and large surfaces).
Additional guidance on points of sale of the ham :
The self-service form vacuum range :
Ham small (250g) BARCODE 2238073000001/2138073000004,
Ham means (400g) BARCODE 2295773000007/2173326000004,
Ham wholesale (900g) BARCODE 238502000008/21733270000037.
Boucherie charcuterie or RADIUS traditional deli Cup large surfaces (without that the consumer can identify the characteristics of the above products).
Are concerned the following lot numbers : 307, 311, 312, 313, 314, 318, 319, 320 laying elsewhere the timestamp : FR 28-027-005 THIS.
People :
who may have purchased these products to the traditional radius should inquire with the store to see if they are concerned.
that hold these products (purchased the traditional RADIUS or RADIUS free service) should not consume them and destroy them, or be reimbursed.
A number is available to consumers for further information : 02 37 49 35 73.
Similar articles :
Main source :
The image is the property of the company pork Du Haut Bois, all rights regarding the image they are reserved.