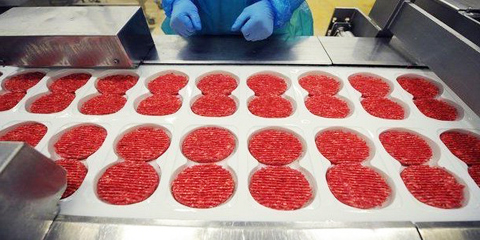 Three children were hospitalized at Hôpital Pellegrin in Bordeaux since Monday morning, for at least one of them infected with the bacterium Escherichia Coli (E. Coli).
It's a girl from 8 years, in Pediatric ICU to the severe but stable state, that was based on research, contaminated by the bacterium E. Coli type O157. The other two cases are a boy of 14 years and a little girl of two years and a half, the results are expected in the day.
The three children would have consumed all of chopped steaks in stores Intermarché and Netto, What started Saturday a health alert. It's chopped fresh steaks, meat company developed Estillac (Saviel), sold under the brands Jean Rose, Netto and Top Budget, packed in trays under protective atmosphere, with a deadline for consumption of 28 may at the 15 June 2012. Although widely exceeded the DLC, It is recommended to people who would have frozen them to report them at the point of sale.
This recall concerns mainly the Southwest quarter of the France, and more specifically the following departments :
12, 16, 17, 19, 24, 31, 32, 33, 40, 46, 47, 64, 65, 81, 82, 87 (Aveyron, Charente, Charente-Maritime, Corrèze, Dordogne, Haute-Garonne, Gers, Gironde, Landes, Lot, Lot-et-Garonne, Pyrénées-Atlantiques, Hautes-Pyrénées, Tarn, Tarn-et-Garonne, Haute-Vienne).
We remember of exactly one year ago, the wave of massive contamination with e.. Coli where 1 733 people have been infected and 19 deaths were recorded across Europe. In June 2011 also, 7 children were contaminated by e. coli by eating contaminated chopped steaks sold by Lidl (the links of articles with the explanation on the e. coli are here below in "Similar articles").
Estillac elaborate meat company has set up a toll-free number for consumers : 0 800 100 233.
Similar articles :